Drain Repairs
Drain Detection specialise in offering a comprehensive range of drain repair services, covering everything from remedying repeat blocked drains to rebuilding collapsed pipes. Our specialist engineers use high quality CCTV equipment to find and inspect the fault before identifying the quickest and most reliable method of repair.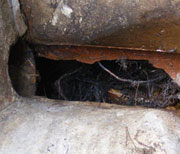 Depending on the extent of the damage, we can use our tanker services to remove the waste from the pipes and sewers, giving us increased visibility of the damaged drain and the space to work on the problem impeded. This ensures that the full extent of the problem is identified and rectified as quickly as possible, so you can be confident that your drains will be fully functioning and long lasting after our repair.
Our drain repairs are built to last, and we pride ourselves on always offering the most cost-effective solutions we can, so your drains don't have to be an expensive operation. For more information on any of our services, get in contact today and we'll be happy to lend our assistance or our expert advice
FREE CCTV SURVEY
to reveal the cause of the blockage.

Only after unblocking external drains. Restricted to domestic properties. Terms & conditions apply.
24/7 EMERGENCY RESPONSE
Ready when you need us
Call now 0800 005 1546
Fully Qualified
Engineers

Contact us for a Free
No-Obligation Quote